"It's better to ask for the earth than to take it."
ITEM: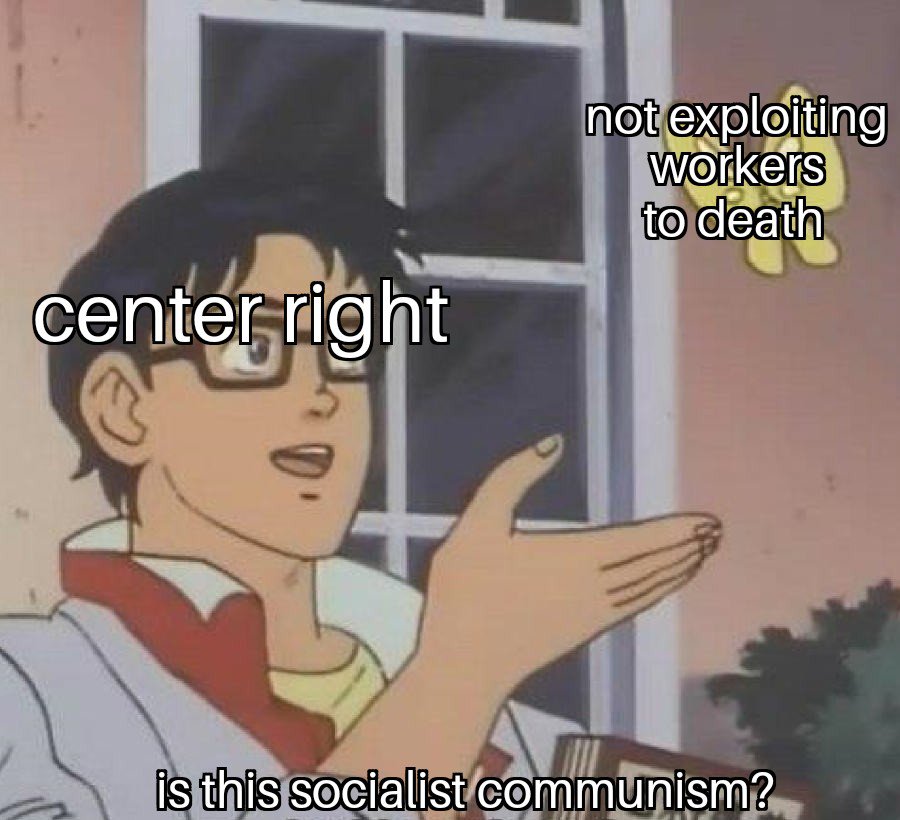 ITEM: I had forgotten, until the Wee Bairn showed up, how great libraries are, especially the well-funded ones in my part of the world. Books, CDs, DVDs, an opportunity to learn, a safe place to hang out for a few hours and charge your phone if you've got nowhere else to stay. A couple of hours of fun for a Wee Bairn. Communities need good libraries.
Of course, there's always some asshole who wants to blow up a common good to save himself $1.50 in taxes a week and make googly-eyes at a sociopath who makes $250 Million a day.
ITEM: Co-workers donating vacation time to expectant mothers and CEO "gifts" car to employee who walked all night to get to job. Feel-good stories! No, not at all an indictment of our collective neglect of social support and infrastructure, while wages stagnate, taxes get cut, and the pocket book of the C-suite bulges!
ITEM: Sarah Huckabee Sanders, like her father, is a bezoar in the good functioning of democracy.
ITEM: I'm ready to do my bit:
Let's back up here briefly and establish something important, though: No one, and I mean no one, is saying that straight guys, white or otherwise, shouldn't have a place in comedy anymore. Only that — like the brilliant Mulaney, who has described himself on many occasions as the whitest man alive — in the future, they'll have to take more risks and work harder to earn a spot that might've been more easily obtainable 20 or 30 years ago, when the sight of a woman or a person of color onstage was more of an anomaly. They'll also have to listen, or at least pretend to listen, when somebody calls them out on their subject matter, their joke writing, or their political opinions. They'll have to refrain from trying to short circuit debate by claiming that the other person is too sensitive or "can't take a joke" or is somehow endangering their free speech. And they'll have to make peace with the fact that, if they're able to claim a spot of prime cultural real estate, they'll be expected to constantly defend it as they age, by becoming better at the art and craft than anyone who dares to accuse them of sucking up cultural oxygen that should be nourishing them instead.
ITEM: When all candidates are clients, how does the algorithm choose the winner?
Facebook took the methods it learned from the Trump campaign to further refine a marketing model called "Test, Learn, Adapt" (TLA), which it currently uses to assess its own advertising. These internal documents are a candid recognition by Facebook of the GOP candidate's advertising success and reveal the degree to which the company views Trump not just as a potential regulator or a source of misinformation, but also, above all, a valued customer.
Also, the Zuck is totally running and his Facebook is going to tell us whatever we want to read to make it so.
ITEM: Prime Day has come and gone. Another chance for Bezos to hoover up $$$ and crush his warehouse employees under the strain of unreasonable deadlines, and of course I've played my part like stooge. Picked up Hitchcock's Shadow of a Doubt, with Joseph Cotton, A collection of all five Star Trek TOS movies on BluRay, and Remo Williams on DVD.
Found a pretty good copy of the Blade Runner Blu Ray 5 disc set with all cuts of the film, from Working to the Final, from a guy on eBay. Case broken, but otherwise fine.
This is me personally trying to keep physical media alive and well, so I can watch the films I like when I want to, not when Netflix decides I want to. Why go back to the 70s?
ITEM: I've upgraded my DSLR three times in the last 15 years, each time expanding on speed and functionality… and price. I know have a D750 with several FX lenses of good quality. Finally, the Bairn is in focus, but I have not improved my photography. I took a class in Lightroom this weekend with the hope that I'd be able to enhance their quality. I left with enough knowledge to understand that It's a poor artist who blames his tools and I should probably stick with what I'm best with: my Instax and cellphone.