My favorite part of To Catch a Thief – Alfred Hitchcock's diamond heist film starring Cary Grant and Grace Kelly – is the first 10-15 minutes. We know the movie is set in the South of France because the titles and credits are shown over the window of a Travel agency, advertising the glamour of the Cote d'Azur. At the end of the titles, a woman screams. As the camera moves through the 5-star hotels and ornate villas of Nice Cote d'Azur, more women shriek in horror. A black cat creeps over roofs.
Jump to a villa on a hill, surrounded by grapevines. There, too, is a black cat, very much like the one prowling Nice, sitting on a chair, eyeballing Carey Grant. Grant plays John Robie, a "retired" jewel thief. A car is climbing the hill. Robie loads and places shotgun near his desk. They are police and it seems like he's not going to go easily… but this is a diversion. He sneaks out of the house and the police follow his auto through narrow streets.
Another diversion: it was his housekeeper driving the car. Robie hitched a ride in a bus out of town.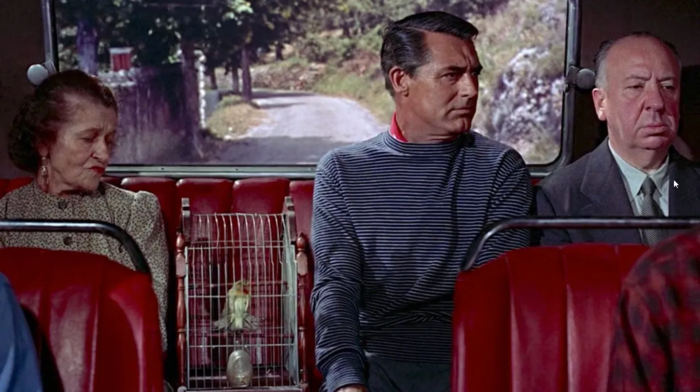 We don't need a second of exposition to understand what is happening. Hitchcock and the actors have shown us. Women are being robbed of their jewels late at night and the Police believe that Cary Grant's character is involved in those thefts. Maybe he is? As a viewer, we're not sure. And we're never really sure, at least until the very end. All of this is accomplished with images and sound. There is little to no expository dialogue.
His vineyard is the life he's earned for both his crimes and his good deeds. Robie was jailed by the Nazis. When his prison was bombed by the Allies, he and the other escaped prisoners joined the French Resistance. After the war, the French government made them all citizens and cleared their criminal records, as thanks for their service. He and his Resistance pals (who all work at one beach-side restaurant) do their best to stay legit. It's not easy and they live under the eye of the gendarmerie.
With this new "Cat" on the prowl, the police are sure that Robie is up to his old ways. His friends are furious; the police have been visiting them, questioning what they know.
Rather than leave France (as urged by Bertani, owner of the restaurant and reformed criminal, and Danielle, the forward daughter of Foussard, another Resistance fighter) Robie decides to find the new "Cat." He teams up with the insurance guy, H.H. Hughson, played by John Williams1 to identify possible future victims. Robie chooses to stake out the wealthy, baudy, middle-aged American woman, Jessie Stevens, and her daughter, Frances Stevens, played by Grace Kelly. Because: Grace Kelly.
I don't know what a gentleman thief looks like so I don't know why I don't believe he would look or sound like Cary Grant. He is certainly believable as a man with great confidence who effortlessly inserts himself into the lives of these two women. Jessie wants a husband for her daughter, and Frances is DTF. Both agree Robie is the right guy, even though they are very aware that he is not the Portland-based lumber magnet he pretends to be (I mean, the accent is a clue).
Incidentally, Jessie, a widow, is closer to in age to Robie than he is to Frances; Jessie is appropriately aged to be the mother of a 25 year old. Brigitte Auber who plays the supposed teenage Danielle, is at least 5 years Kelly's senior. Everyone in this moving looks at least a decade older than they really are. Goes to show you that sun damage is real. Please wear sunscreen.
Driving, especially reckless driving along narrow, rural roads, is common theme in many of Hitchcock's films. In this scene, Frances takes Robie on scenic drive through the hills, driving recklessly and ultimately dropping their police tail.
She's a pretty cool lady.
During this viewing, this scene immediately reminded me of end of Suspicion, where Joan Fontaine tried to get out of Carey Grant's car and over a cliff But like I said, the driving theme pops up often in Hitchcock's movies. Here's a short playlist:
My least favorite scene is near the end: to catch the thief impersonating the original Cat, Robie, Frances, and her mother attend a masquerade at a villa that will their host ostentatiously bejewelled guests overnight. How can the new Cat stay away?
Mother and daughter are in period ball gowns, escorted by a man – perhaps Robie? – done up in Moorish blackface. One can try to explain to modern viewers that that blackface was just as racist then as it is now, but that 1950s moviegoers and filmmakers were more comfortable in their own racism. Yes, there is a reason in the story why the man's costume needed to be head-to-toe, and black, but Hitch certainly could have made a different choice.
Although I'm partial to Hitchcock's earlier, black and white films, whether produced in London or Hollywood, of his color Hollywood films I'm truly fond of Rear Window with Jimmy Stewart, which was released a year earlier than this one. Grace Kelly is the star of that film, even though it's Stewart's face is on all the advertisements. Same for Princess Grace in Dial M for Murder. If you have not yet seen either of these movies, please do as soon as humanly possible.
To Catch a Thief, though, is worth your time, particularly the first bit and the later car chase. And Grace Kelly. I give it 3 and 1/4 Hitches out of 4.
Williams acts mostly with his face, with who has appears in a ton films, including Dial M for Murder. His last role was on the original Battlestar Galactica. ↩