I am a strong proponent of California Noir, especially the subset LA Noir. My memory of my family's brief time in the City of Angels is piss-yellow and grainy, like the intro to James Gardner's The Rockford Files or Emergency! Not the Kodachrome Los Angeles of mid-century musicals. Not the jewel-toned love letter to "trying to make it" of La La Land.
Noir pictures, and novels, fit this memory. So I seek them out, have my favorites. Chinatown… L.A. Confidential… both the movie and the novel, but for different reasons. He's a right-wing wackadoodle, but James Ellroy can set a scene with a few words and write wicked dialogue. Widely panned by the Twitterati, I thought the second season of True Detective hit all of the beats of an L.A. Noir… I liked the story and characters, even though Vince Vaughn played a gangland version of his stock character… I still don't understand the hate.
Violence against women at the hands of powerful men is the recurring theme in noir stories. The old "dame in distress" trope: murdered hooker, socialite in crisis for getting some of the same action any of the male characters take for themselves. As my hair goes gray, I find it harder to excuse this trope. I try to find stories where it's subverted/turned on it's head.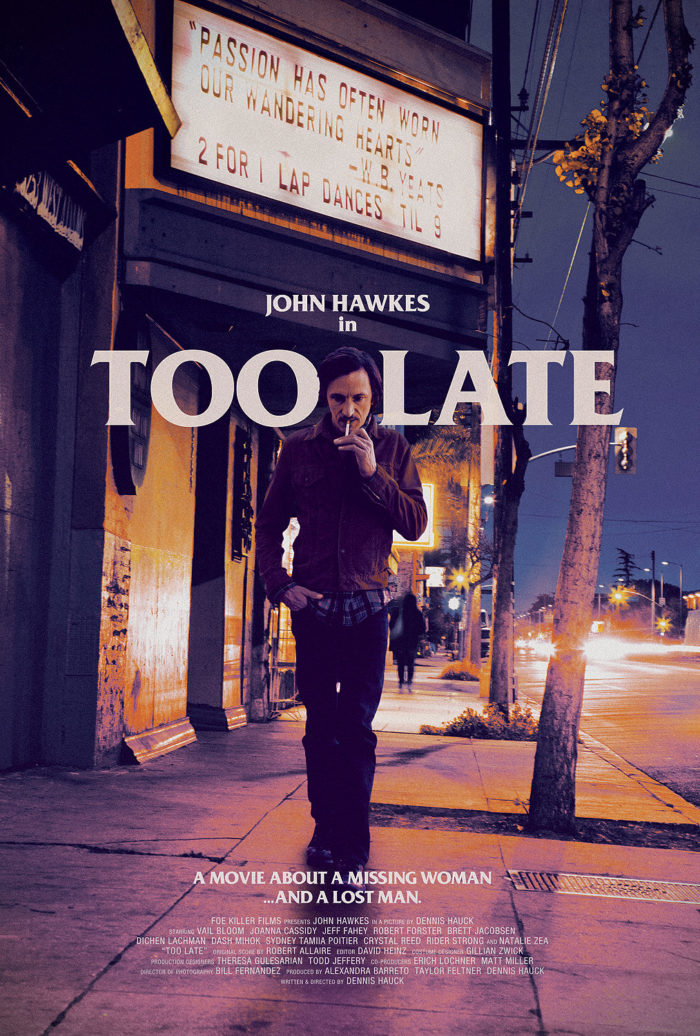 Too Late, starring John Hawkes, isn't that story. It dives head-on into the trope, like a hophead into the shallow end of an empty pool.
Summary: Hawkes plays Samson, a private detective who drives a white Firebird, not unlike Jim Rockford. He's looking for a girl, Dorothy, played by Crystal Reed, At the beginning of the film, Dorothy is in the hills when she calls Samson. They've met once before, he remembers her, and he tells her that he'll come right out to meet her. Before he gets there she is murdered by a shady character with a greased up pompadour. Samson spends the rest of the movie avenging her.
His motivation is not clear for the first act. I almost stopped the film.
The story is told in 5 Acts, but not in chronological order. And each Act takes place in one long, continuous shot, more or less. There are a few breaks in those long shots; you definitely notice them when they happen. The ordering and the single-take shots seem fanciful, right up until the 4th and 5th Acts. That's a long way for the payoff.
Act 1 – The Hills
Act 2 – Lyons' House
Act 3 – Strip Club
Act 4 – Drive In/The Last Reel
Act 5 – Hotel
(These are my labels, fwiw)
Too Late definitely has a Tarantino vibe. But there's a bit of low-rent Robert Altman in there as well, with the overlapping, naturalistic dialogue and how the camera moves to capture the entire environment in an act that reminds me, particularly, of Altman's Short Cuts. For me, this works best in Acts 3 and 4. I really like Elliott Gould's Marlowe in The Long Goodbye and Hawkes definitely is going for something like that in Too Late. He's pretty cool, but It's hard to believe he'd get the girl. He does, just not the one you expect.
There's a lot of "daddy" talk throughout the movie… old men, with much younger – and disposable – women. Even Natalie Zee1, who plays Dorothy's mother, plays her character like she's a kid, not the mom of a 30-year old woman working in LA as a stripper. Robert Forster plays Gordy Lyons, the owner of the strip club where Dorothy works and the man who ordered her murder for reasons that are 1) silly, and 2) coincidence. Samson has come to bring to justice in the Second Act. Gordy's wife, Janet, is a bombshell maybe in her early forties, but Gordy and gang treat her like she's yesterday's news. His contempt for her weighs and she reacts by walking around their house pantless.2 Again, I try to stay away from the violence against women/women as disposable "toys" for men noir trope.
I wasn't in love with the dialogue (trying very hard to sound hard) or the delivery. I read a criticism somewhere that suggested the film would have been well served with a couple of rewrites and some rehearsal. I agree. John Hawkes kills, but most of the other performances feel like they were handed the pages just that morning.
Some lines I liked. Most of them are in the trailers:
"Let's add some horns to this thing."
"If I have a gun, I'm gonna kill'em.  I'm trying not to do that."
"Then let's set it to music."
"I gotta hang a collar on a guy."
All told, Too Late takes a really long time to get to the punchline, and it could use an edit or two in the script. It's not as clever as it thinks it is. But the actors are really cool, especially Hawkes. So, if you're interested in this kind of film, watch it. If not, take a hard pass. I found it on Amazon Prime.
Zee played the wife/ex-wife/girlfriend/wife/ex-wife of Timothy Olyphant's Raylan Givens in Justified. Timothy Olyphant was also Marshall Seth Bullock in Deadwood. John Hawkes was in Deadwood as well, playing Bullock's partner Saul Star. It's a tiny acting world. ↩
I know that I couldn't stroll around with my Lower 48 hanging in the wind and carry on a conversation, let alone deliver a monologue or work alongside these other actors. The actor Vail Bloom does it with confidence that's incredible. ↩