We've seen The Croods at least three times in a bunch of Family Movie Nights… So often I barely remember other animated films. The Croods holds beachfront real estate in my brain. All other residents died of the common cold…
My girl laughs *uncontrollably* throughout the entire film. 
The Croods are a family of, presumably, Neanderthals (or some other pre-Homosapien hominid…  I'm not sure it matters.)  The Crood family lives in constant fear of anything new or different, snug in a cave, leaving only to dine on the rare bird's egg or edible bug. This bunker mentality is necessary. Their environment is purpose built to kill them. As Eep, voiced by Emma Stone, outlines in the 10 minutes of exposition at the top of the film, each of the neighboring families have been killed by animals, plants, or viruses. The Croods are the sole survivors; they face extinction every minute of every day. 
Eep, though, is a teenager who longs to explore the larger world; she isn't content to lie at the bottom of the family sleep pile, stuck behind the boulder that keeps death out of their snug cave. Rough and tumble, she holds her own hunting with her father and idol, Grug.  Nicholas Cage is Grug and his character looks like the animators took a screen grab from Kiss of Death and animated it on their MacBook.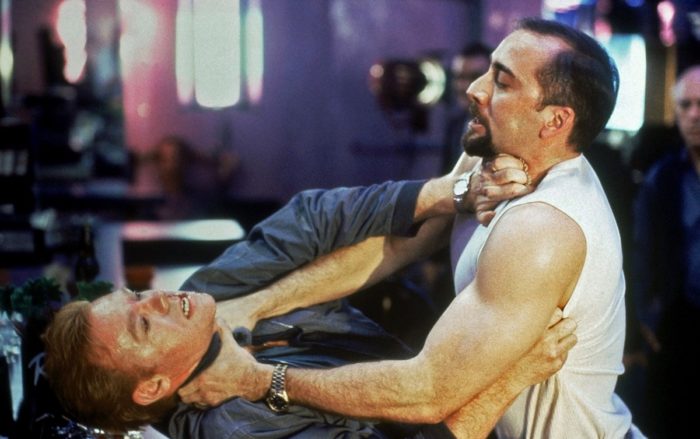 As far as Grug is concerned his only reason for being is to make sure that no member of his family dies by bug bite, sabre tooth, or virus. To that end, he will do anything, from telling scary stories at bed time, to keeping locked in the cave 23 hours a day.   
Of course, this plan goes out the window when Guy shows up. 
Guy, (Ryan Reynolds) is a "real man," presumably a Homosapien who can create fire, wears pants, and traps his dinner.  He has ideas and imagination. While she tried to smash his head with a rock, at first, Eep is fascinated by this new perso. So are the rest of the Crood. He tells new stories, has new words, has explored the world. Guy knows that the dark sky and rumbling ground mean that deadly change is coming and it will impact the family no matter how deep and strong their cave is.
Of course, Grug wants no part of the boy; he wants to eat Guy for dinner. Guy is change and novelty and those are the things that Grug fears most. While Guy's ingenuity helps the entire family survive calamity as the Earth shifts epochs (severly cut for time), Grug's desire for the safe and known nearly gets them killed on multiple occasions.
Of course, as the only teenagers around, Eep and Guy are sweet on each other. Ugga, played by Katherine Keener, wants Ugg to give the kids a chance. The entire family thrives in Guy's presence, enchanted by his ideas and the freedom they offer. Grug worries that he is being replaced as the patriarch of their small clan. He's right and that's my biggest problem with the movie.
This movie presents itself, at first, as Eep's coming-of-age story. She is the first voice we hear, the first character we meet. She is as strong and power as her father, but is also curious about the world. Quickly, though, the story turns to Grug's mid-life crisis and ultimately it's resolution. Grug make the journey. He changes significantly: Grug comes up with his first, true "idea," one that saves the entire clan and keeps him at the head. He even gives tacit approval to Guy to replace him, someday, long after he's dead, as the most important man in Eeps life.
This is some 1950s, MAGA, Patriarchy shit that needs a good smaching.
Eep changes, too, but it's almost an afterthought. Yes, she's a mastodon-wrestler, but now one that makes googly eyes at a boy and squeals about shoes and hair. This is fine, it's fine. But it's not in line with anything we learned about her character from frame one until we meet Guy. I don't know why Stone would have made this movie; something certainly changed after principal animation.
The Croods is not a progressive story and that's really disappointing. 
Eep-as-narrator returns at the end. See, she's still the same girl: she's riding a wild beast! Sure, it's in formation with the rest of the family, with Grug at the apex of the formation. But still! Look at how happy they all are now that Grug is right back to being the head of the clan, and he's accepted this new world! Grug's happiness is their happiness! They're content living under his care! And Eep has a boy to smoosh!
The Croods is a great story for all of us middle-aged fathers of awesome little girls: we will never be replaced and they will surely lower their expectations out of life!
Otherwise… the best scene in the film is Grug trying to out-idea Guy.  I'm a big fan of his selfies. 
Also, I chuckled at Grug's mugging when he believes/hopes his MiL has been eaten or squished.  This is not at all a feeling I'll be sharing with my therapist. 
All told, I give The Croods a rating of 1 Screaming Nic Cage out of 7. Watch it if you're trapped in a plane or a tar pit.
Our girl has been looking forward to the sequel. I'm sure we'll pay the rental fee, if only because we're desperate and she is remarkably persuasive.